More than 6 million seniors in the United States live with Alzheimer's. By 2050 that statistic will rise to over 13 million. As a growing health concern, older adults and their families should know the warning signs of mild cognitive impairment (MCI). Around a third of people diagnosed with MCI will develop Alzheimer's within five years.
Understanding the seven stages of Alzheimer's can help you provide care or find the right memory care facility.
You are not alone if a loved one exhibits early signs of dementia. Understand that every journey with dementia is different, but the seven stages cover the similar experiences of many.
What is Alzheimer's?
Alzheimer's is the most common form of dementia. About 60 to 80% of cases of dementia are Alzheimer's. Plaque and tangles in the brain define this form of cognitive impairment.
The development of amyloid plaques and neurofibrillary tangles makes memory and thinking skills grueling. With the progression of Alzheimer's, everyday tasks become increasingly more difficult.
Learning more about the effects of neurocognitive decline can benefit your journey, whether you plan on providing home care or utilizing a memory care facility in Scottsdale, Arizona.
What are the seven stages of Alzheimer's?
Dr. Barry Reisberg of New York University is the architect of describing the progression of Alzheimer's. Early, moderate, and end-stage is another common guide to the Alzheimer's journey. The seven-stage model offers a deeper understanding.
According to the Alzheimer's Association, the seven stages include the following.
Stage 1
The person experiences no impairment, memory loss, or difficulty with everyday tasks. Less than one in five people are familiar with MCI or if they should be tested for it. More than half of the doctors surveyed by the Alzheimer's Association are not entirely comfortable making an exact diagnosis.
Stage 2
Stage two is a mild cognitive decline. A person may experience a few lapses in memory, but nothing alarming. It is still difficult for doctors, friends, and family to recognize symptoms.
Stage 3
Friends and family members may start to take notice in stage three. Doctors will feel more comfortable diagnosing as memory and concentration difficulties are more evident. In stage three, the person may:
Have trouble word-finding
Difficulty remembering names, especially of new people
Losing concentration at work or in social situations
Unable to recall new information
Misplacing objects
Difficulty planning or organizing
Stage 4
Stage four is still a moderate decline, but more and more difficulties become apparent:
A sharp decline in short-term memory
Losing the ability to be financially responsible–forgetting to pay bills or manage money
A decline in knowing personal information
Withdrawing from social situations and increases mood changes
During this stage, physicians can make a concrete diagnosis.
Stage 5
Moderately severe cognitive decline is apparent. Stage five is when providing care intensifies. Speech patterns may slow down due to gaps in memory. During this stage, the person may:
Forget personal information like their phone number or what schools they attended
Time of day confusion
Feelings of confusion in familiar areas
Stage 6
Seniors in stage six will need 24-hour care as cognitive decline becomes severe. Recognize the signs:
Memory and personality changes worsen
Recognizing family and caregivers becomes difficult
Help with activities of daily living (ADLs) increases
Problems managing personal hygiene
Changes in sleep patterns
Wandering and sundowning
Stage 7
During stage seven, people lose mobility and their ability to communicate. Round-the-clock support provides personal care and hygiene, feeding, and transferring assistance as muscles and reflexes become abnormal.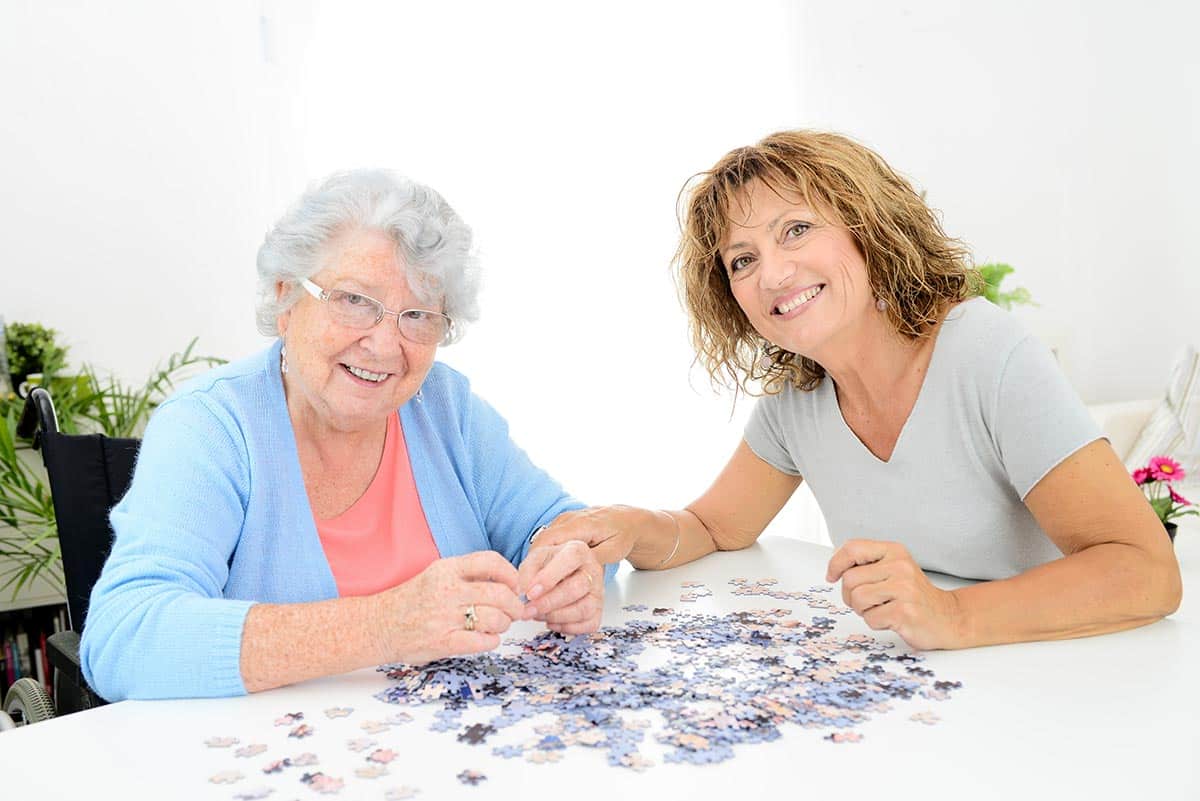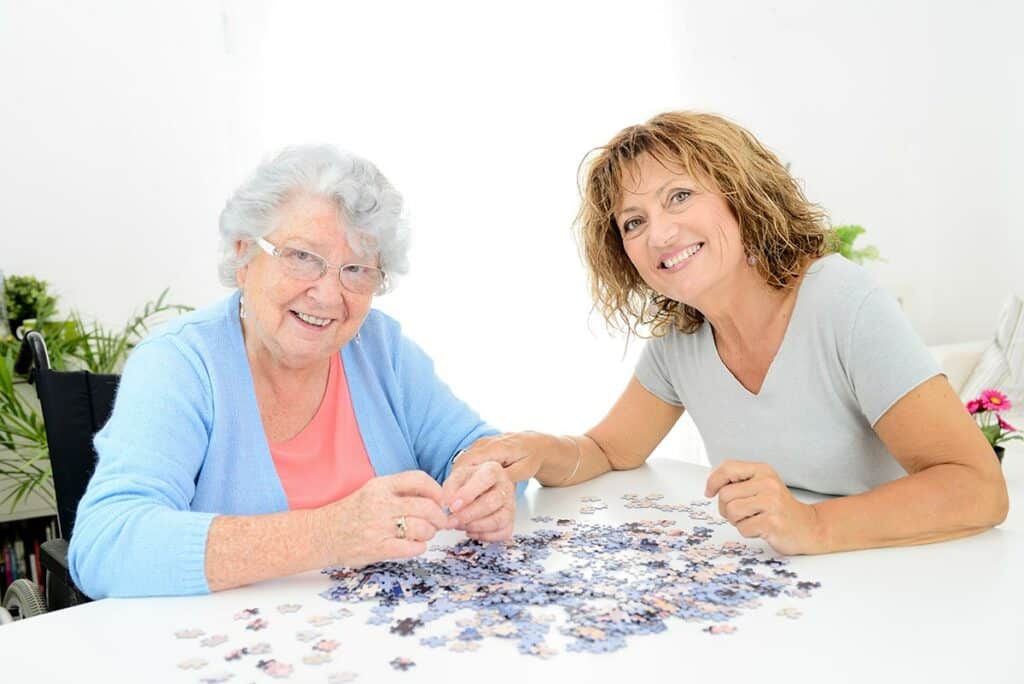 Home care or a memory care community?
Many older adults would prefer to continue living at home. It's a familiar environment and can bring a sense of comfort.
Adult children and spouses are usually the first to provide Alzheimer's care. Nearly 85 percent of caregivers never take a break once they begin this honorable journey. Providing care to a loved one may lead to burnout and adverse health for both parties.
Determine ahead of time if you or another family member is capable of providing care. Caregiver burnout is a combination of physical and mental exhaustion. Providing meals and supervision in the early stages can feel manageable but account for an increased need for care.
When providing home care, ask if you're ready to:
Make modifications to the home
Secure the home to prevent wandering
Provide care despite personality changes
Remain calm while providing care and support
Provide physical and mental exercises and create social opportunities
Join a support group as early as possible to learn from people in similar situations. Many find that memory care communities can help alleviate many burdens. Trained staff take care of the heavy lifting to allow families to enjoy quality time.
Dementia care, or Alzheimer's care, is a resource for seniors and their caregivers. These communities, known as memory care, are not nursing homes. They supply a higher level of care than assisted living facilities.
Barton House Memory Care in Scottsdale provides high-quality care at an attainable cost.
What is Barton House Memory Care?
Barton House provides care for every stage of dementia.
Our Alzheimer's care community in Scottsdale offers a financially flexible option for seniors living with memory loss. Specialized caregivers provide a higher level of assisted living services and purposeful activities tailored to residents' needs.
Offering a loved one the gift of memory care can increase mood. Residents also experience independence and a sense of belonging. Group wellness activities and games can help promote new neural pathways in the brain.
Alzheimer's care in Scottsdale provides:
Specialized nursing oversight and 24-hour team members
Individualized level of care
ADLs assistance
Personal care
Purposeful activities
Engaging events
Modern living spaces
Housekeeping and maintenance
Brain-healthy meals
Alzheimer's Care | Scottsdale, AZ
Contact Barton House Memory Care to learn more about flexible cost Alzheimer's care in Scottsdale, Arizona. We can let you know if our community is a good fit for your family's needs.