What to do if You Suspect Your Spouse has Dementia
Are you wondering what to do if you suspect your spouse has dementia? You are not alone if your partner exhibits early signs of dementia. Over 660,000 seniors in California live with Alzheimer's.
Alzheimer's is the most common form of dementia and accounts for 60 to 80% of diagnoses. This form of dementia grows at an exceedingly rapid rate in the Modesto, CA area.
Stanislaus County Alzheimer's Disease mortality rates were higher than California and the United States average rates from 2008-2017.
Stanislaus County Alzheimer's Disease mortality rates were similar to the California average but increased sharply from 2014-2017.
Stanislaus County's Alzheimer's Disease mortality rate was 213% of the United States rate and 181% of the California rate as of 2017.*
*Figures from the 2020 Stanislaus County Community Health Assessment
According to the Alzheimer's Association, more than 1.6 million Californians provide care for a loved one with dementia. Seek help and take advantage of senior services like a local Family Caregiver Support Group as soon as possible if you suspect your spouse is exhibiting signs of memory loss dementia.
Medical professionals are now making strides in detecting mild cognitive impairment (MCI) and assessing the risk for dementia earlier. Around a third of people living with MCI develop Alzheimer's within five years of MCI detection.
Early detection can help the planning stage for approaching care. Whether you choose to provide care yourself, or utilize long-term dementia care at a later stage, understand your role as a partner will change.
What are the symptoms of dementia?
Memory loss is the most common sign of Alzheimer's and dementia. There is a difference between being forgetful in normal aging and living with MCI. Forgetfulness that interrupts daily life is classified as dementia.
The ten major symptoms of dementia include:
Memory loss
Mood changes
Poor decision making
Using incorrect language
Avoiding social situations
Confusion of time and place
Loss of ability to complete routine tasks
Difficulty with planning or solving problems
Vision changes, trouble recognizing colors and space
Losing items or the ability to retrace their steps
What can you do if you think your spouse has Alzheimer's?
If you think your spouse might be living with dementia, start making plans about care as early as possible. While support and supervision may be minimal in the early stages, Alzheimer's and most forms of dementia are progressive. People in the mid to late stages will need 24-hour care.
Discuss these concerns with your partner. Choose a quiet time to talk about the future while your loved one can express their desires. Although it is difficult, be calm, supportive, and positive. Involve other friends and family members in the conversation once a plan has been established.
Take notes of when you notice changes in your loved one. Keeping a document of your suspicions can help your family doctor make a diagnosis. If medical professionals confirm your concerns, start making plans about care as early as possible.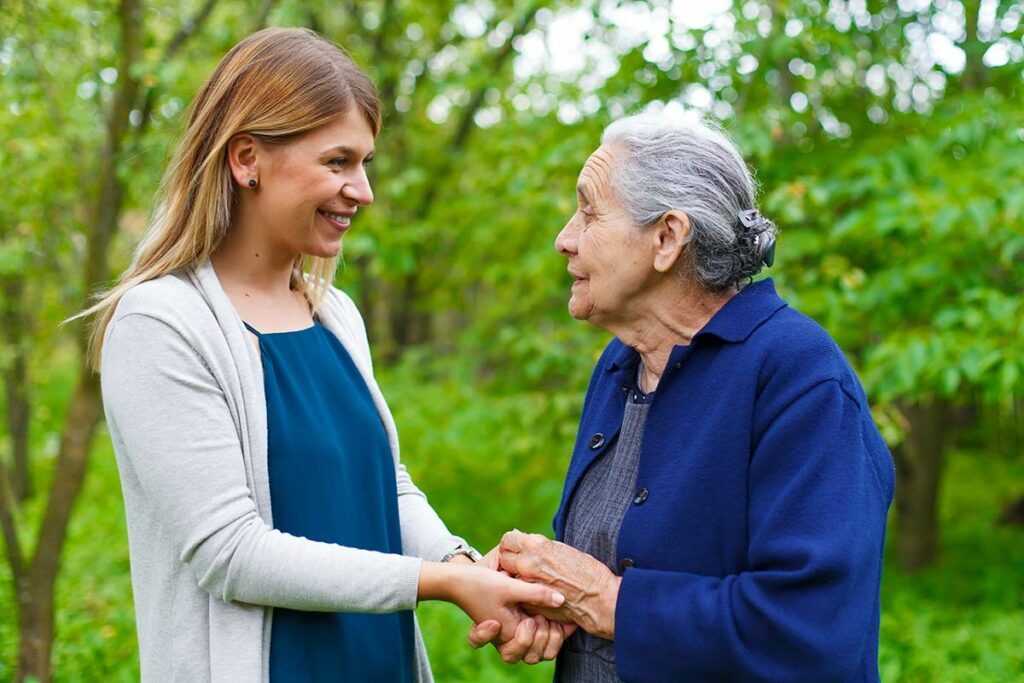 How do you begin providing care?
Spouses and adult children are often the first to act as caregivers. Nearly a third of family caregivers are over 65. Do not go on this journey alone. Join a support group and get counseling before embarking on the path of providing care.
Going from a husband or wife to a caregiver is not an easy transition, and it may be a rapid change. Support and supervision may be minimal in the early stages, but the mid to later stages will require 24-hour care. Prepare for the transition by considering:
You may need to take over financial responsibilities like paying bills
You may need to take over household chores
You may need to provide personal care
You may need to secure the home to prevent wandering
You may need to make home modifications to prevent falls and accidents
You may need to ask friends and family for help
You may need to learn how to manage medication
You may need to provide social and physical support
You may need to relearn how to communicate with your spouse
You may need to become an expert on your partner's type of dementia
Home care may work for you and your partner temporarily. Providing support can be physically and mentally exhausting. Prevent caregiver burnout and let someone else do the heavy lifting. Consider senior services like memory care to be a resource for your family.
Orangeburg Memory Care in Modesto provides high-quality dementia care at an attainable cost.
How does Orangeburg Memory Care provide senior services and care?
Orangeburg provides care for every stage of dementia.
Memory care provides enhanced assisted living services for people living with dementia. Specialized caregivers provide activities of daily living assistance in addition to purposeful activities.
Offering seniors with dementia a chance to belong to a community and experience a sense of independence can increase mood. Group wellness activities and games can help promote new neural pathways in the brain and elevate the quality of life.
Orangeburg Memory Care provides:
Specialized nursing oversight and 24-hour team members
Individualized level of care
ADLs assistance
Personal care
Purposeful activities
Engaging events
Modern living spaces
Housekeeping and maintenance
Brain-healthy meals
All these services are available at a more affordable cost than many other memory care facilities. We believe all seniors and their families deserve high-quality care at a fair price. Let Orangeburg Memory Care be a resource for your family.
Find Memory Care in Modesto, CA
Contact Orangeburg Memory Care to learn more about flexible cost Alzheimer's care in Modesto, CA. We can quickly let you know if our community is a good fit for your family's needs.