Alzheimer's and other forms of dementia are common conditions affecting over 690,000 seniors in California and that number is projected to rise to 840,000 by 2025. If your loved one is living with dementia, you are not alone. It can be overwhelming to know how to help your loved one. Common symptoms like confusion and anxiety can be effectively managed with the right approach and resources.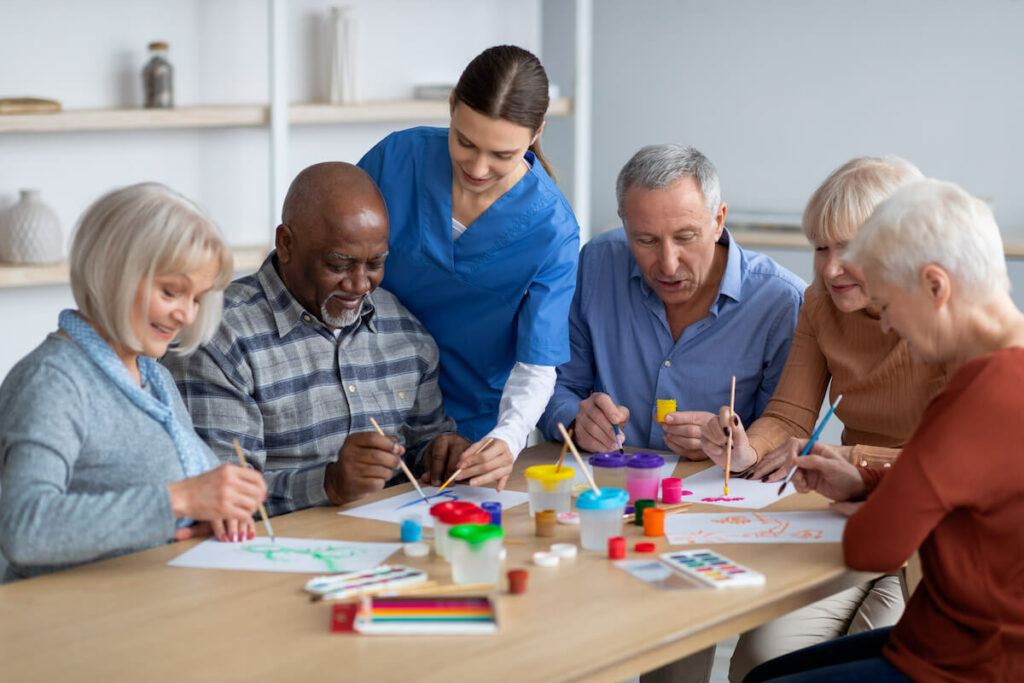 Understanding Dementia and Anxiety
It's not unusual for seniors with dementia to experience anxiety. In fact, it's quite common. This can be caused by a number of factors, such as changes in routine, fear of the unknown, or feeling overwhelmed by too much information. Seniors with dementia commonly experience anxiety and frustration in the following situations:
Changes in their environment, such as travel, hospitalization, houseguests or visitors
Changes to their daily routine like new caretakers
Misperceived threats
Fear and fatigue due to confusion
Anxiety can manifest in different ways, depending on the individual. Some common signs of anxiety in seniors with dementia include pacing or restlessness, agitation or aggression, mood swings, withdrawal from social activities, poor sleep, and loss of appetite. If you're a caregiver for a senior with dementia, it's important to be on the lookout for these signs.
Fortunately, there are ways to help reduce anxiety in seniors with dementia, according to the Alzheimer's Association.
Create a calming environment by removing stressors or trying soothing rituals like listening to calming music or retreating to a quiet location. It's also helpful to limit stimulants like caffeine.
Keep tasks brief and stick to a routine. Consistency helps reduce anxiety.
Limit triggers like loud noises, bright lights, and other distractions.
Ensure that your loved one is comfortable. They may be anxious due to pain, hunger, thirst, etc.
Provide an opportunity for exercise. Going for a walk, gardening, dancing, or chair yoga are good ways to get exercise in.
There are a number of ways to help reduce anxiety in seniors with dementia. First, try to maintain as much consistency in their routine as possible. If there are changes that need to be made, such as travel or hospitalization, explain them well in advance and provide as much detail as possible. Secondly, provide a calm and safe environment, free of loud noises or too much stimulation. This may mean simplifying their surroundings and providing clear way-finding cues. Finally, offer reassurance and support. Let them know that you're there for them and that they can rely on you.
Modesto senior services for dementia care
One excellent way to find support is to identify the best dementia care resources in your area. Orangeburg Memory Care is one such resource that can provide support and assistance to those who need it. Our care team is experienced in helping seniors manage their anxiety and make the most of their lives.
At Orangeburg Memory Care, seniors and families can expect modern, comfortable, and attainable care that doesn't break the bank. Learn more about our expert care and fair pricing.
The benefits of memory care:
Secure housing
Nutritious meals
Activities of daily living assistance
Individualized attention
Senior health care services
Enriching physical and mental activities
Community inspiration through socialization
Specialized team member support
Dementia and anxiety are manageable with the right care, environment, fresh healthy meals, and engaging activities. At Orangeburg Memory Care, in addition to providing the right kind of care, we handle the cooking, cleaning, and hassles of life to allow your loved one to pursue passions and experience comfort.
Our goal is to provide services that are simple, easy, and transparent for your family.
Our secure and comfortable living spaces, as well as amenities like restaurant-style dining, an on-site beauty salon, and a secure courtyard with a relaxing garden, make life easy to enjoy.
If your loved one is living with dementia, don't hesitate to reach out to Orangeburg Memory Care. We can help them manage anxiety and enjoy a better quality of life. Contact us today to learn more about our services.
We provide Modesto senior services designed to help seniors with dementia live their best lives.
For more information about our services, contact us today. Thanks for reading! If you found this blog post helpful, we encourage you to share it with others who may benefit from it. Help us spread the word about the importance of Modesto senior services like Orangeburg Memory Care.