Moving to a senior living apartment can feel like a big step. It's completely normal if you're feeling a little apprehensive. After all, it's a change of scenery and a new chapter in your life.
However, it's important to remember that this transition is about embracing comfort, convenience, and a sense of community. This downsizing opportunity is about starting fresh and living better than ever.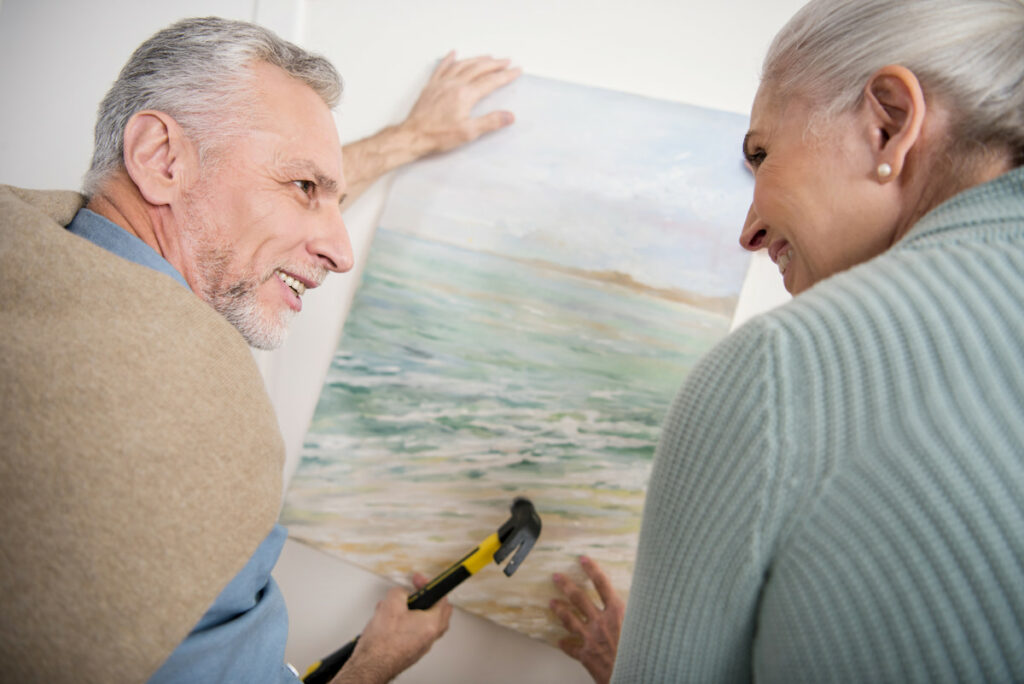 Senior living apartments are designed with the needs of older adults in mind. They offer a blend of independence and support, allowing you to enjoy your golden years with peace of mind.
The move is about more than just the practical aspects. It's also an opportunity to create a space that feels like home.
Decorating your new home is a chance to express your personality and create a warm, welcoming environment. Your senior living apartment is a blank canvas waiting for your personal touch:
Classic elegance
Cozy country charm
Sleek modern style
At Novellus Kingwood, we provide practical advice for seniors and family members looking for apartments in Houston, Texas.
Nestled in the beautiful surroundings of Kingwood, TX, we understand the importance of making your space your own. Our assisted living and memory care community offers a range of senior living apartment floor plans.
With some creativity and planning, you can transform any of these spaces into a place you'll love to call home. Let's explore the features of senior living apartments, delve into different floor plans, and share some practical tips on decorating your new home.
Understanding Senior Living Apartments
What are Senior Living Apartments?
Senior living apartments are housing options specifically designed for seniors, typically 55 and older. Age restrictions are usually higher in assisted living and memory care communities.
They are part of senior living communities. Residents can live independently while accessing various amenities, services, community activities, and support as needed.
These apartments are designed with the unique needs of seniors in mind. They often feature:
Single-floor living
Easy accessibility
Security features
Compact sizes for easier upkeep
Housekeeping and home maintenance services
Moreover, they are usually located within a community that offers shared spaces such as dining rooms, fitness centers, gardens, and more.
The Benefits of Choosing a Senior Living Apartment
Choosing a senior living apartment can bring a wealth of benefits. Firstly, it allows for a worry-free lifestyle. Wouldn't you rather spend your time enjoying life instead of worrying about home maintenance, cleaning, or lawn care?
In a senior living community, all these tasks are handled for you. The benefits are endless:
You're free to pursue your interests and hobbies
Apartments promote social interaction and community engagement
Senior living communities offer a variety of amenities, services, and community activities
Assisted living communities can significantly improve quality of life
Senior-friendly living spaces reduce feelings of loneliness
Community-based living promotes mental and physical health
You can live independently in your apartment, but help is always available when you need it. This gives you and your loved ones peace of mind.
How to Choose the Right Senior Living Apartment
Choosing the right senior living apartment involves considering several factors. First, think about your current and future needs. Do you require assistance with daily activities? Do you value your independence? Does a loved one have Alzheimer's or dementia?
Different communities offer varying levels of care. It's essential to find one that aligns with your needs.
Next, consider the location. Is it close to family and friends? Are there nearby amenities such as shopping centers, medical facilities, or parks?
Then, consider what you're looking for in a senior apartment:
Does it suit your lifestyle and preferences?
Is it easy to navigate?
Is the community's culture warm and welcoming?
Do they offer activities that interest you?
Remember, the goal is to find a place where you feel comfortable and happy. Take your time to explore different options, ask questions, and make an informed decision.
Overview of Senior Living Apartment Floor Plans
The Importance of a Floor Plan in a Senior Living Apartment
One key aspect to consider when selecting a senior living apartment is the floor plan. It's not just about the square footage; it's about how that space is laid out. A well-designed floor plan can significantly impact your comfort, convenience, and overall quality of life.
A good floor plan ensures easy navigation, especially for seniors with mobility challenges. It also should include enough storage space, natural light, and accessibility features like wider doorways or lever-style door handles.
Moreover, the right floor plan can make decorating and turning an empty space into a cozy home easier.
Common Senior Living Apartment Floor Plans
Senior living apartments come in various floor plans, each with its unique advantages:
Studio Apartments

These are one large room that serves as the bedroom, living room, and kitchen, with a separate bathroom. They're compact and easy to maintain, making them ideal for seniors who value simplicity.

One-Bedroom Apartments
These apartments offer a separate bedroom for added privacy and a living area, kitchenette, and bathroom. This layout provides more space and flexibility.

Two-Bedroom Apartments
Two-bedroom apartments often feature two bathrooms and ample storage space. They're great for couples, roommates, or if you plan to have family members visit frequently.
Decorating Senior Living Apartments: Key Considerations
Decorating a senior living apartment is an exciting opportunity to create a space that feels like home. However, it's crucial to balance aesthetic appeal with functionality and comfort. Here are some key considerations when decorating your new senior living apartment.
Functionality and Comfort
The most crucial aspect of any living space, especially for seniors, is that it should be functional and comfortable. Choose furniture with storage capabilities to keep your home organized. Opt for sturdy and practical pieces, ensuring they're easy to use and move around.
Incorporate sentimental items into your decor to make the space feel personal and homely. These can be family photos, heirlooms, or artwork—anything that brings you joy and reminds you of cherished memories.
Mobility and Accessibility
When decorating, it's important to consider mobility and accessibility. Avoid cluttering the space with too much furniture or decor, which can create obstacles and make the room difficult to navigate.
Ensure enough space between furniture for easy movement, particularly if you use a mobility aid like a walker or wheelchair. Also, place frequently used items within easy reach to avoid straining or bending.
Lighting and Color Schemes
Lighting plays a significant role in creating an inviting atmosphere. Maximize natural light by using light curtains or blinds.
Color schemes can also impact the mood of the space. Choose colors that you love and that evoke positive emotions. Lighter colors make a room feel larger and brighter, while warmer tones create a cozy atmosphere.
Decorating Smaller Spaces
Decorating a studio or one-bedroom apartment can be challenging coming from a large home. However, smaller spaces can be transformed into a comfortable and stylish home with some creativity:
Use multi-functional furniture like a sofa bed or a coffee table with storage
Add a mirror to enhance the space, making it appear larger
Use a large painting or artwork as a focal point
With careful planning and consideration, you can create a space that meets your needs and reflects your style and taste.
Let's Decorate Together
Our team at Novellus Kingwood is here to help Houston area seniors create their dream living space. Contact us today to tour assisted living and memory care floor plans!