It's increasingly important to stay active both physically and mentally as we age. Unfortunately, many seniors find themselves becoming isolated and sedentary as they lose the ability to drive or no longer have friends or family nearby. This is where activity groups can make all the difference.
Joining an activity group gets seniors out of the house or their senior living apartment and socializing with other people, while also providing much-needed physical activity. The benefits don't stop there — research has shown that staying active and engaged can actually improve seniors' overall well-being.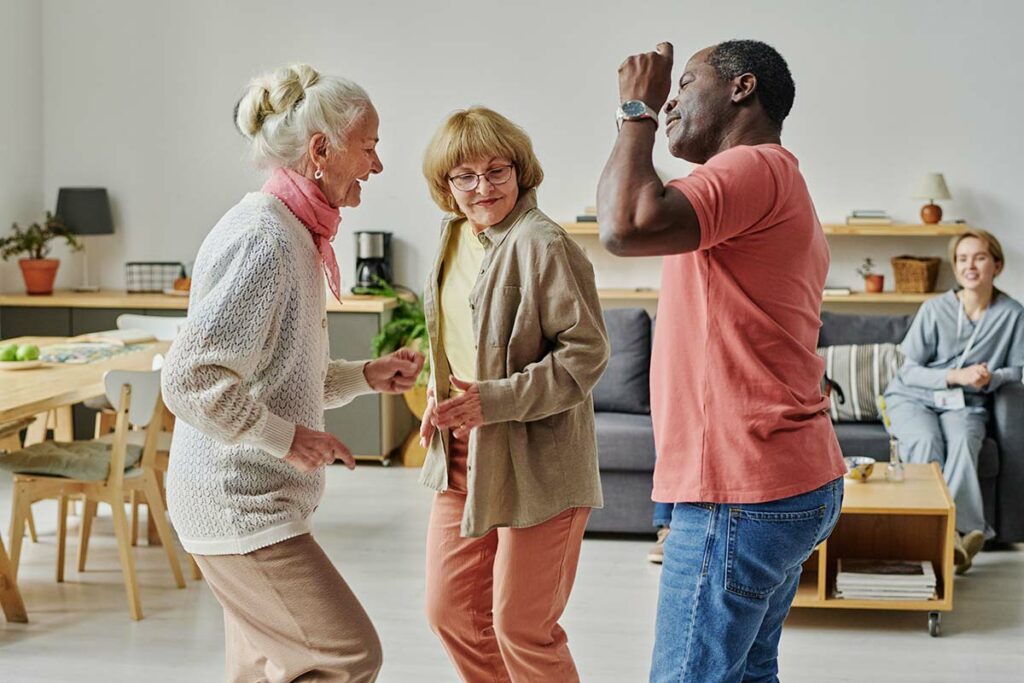 What activities for senior citizens are available in Modesto?
When you search for "senior groups near me," you might come across several types, including:
Exercise Classes – Group fitness is a great way for seniors to stay physically active to help prevent future injury, while also mingling with others in a similar stage of life.
Arts and Crafts – Creative projects can help your loved one express themselves and connect with others over a shared passion.
Game Nights – Game nights are a fun way to socialize and compete with friends. Seniors can enjoy a game of bingo or challenge each other over trivia.
Excursions – When seniors want a change of pace, day trips can provide the perfect escape. Downtown Modesto offers plenty of attractions, such as theaters, dining, art museums, shopping, and architectural sights.
There are plenty of activities for senior citizens of all ages in Modesto, but did you know there are also activity groups for seniors with dementia?
Orangeburg Memory Care specializes in offering personalized care and engagement for seniors living with Alzheimer's or dementia. At our Modesto senior center, you'll find residents engaged in walking groups, happy hour, meditation, art projects, various special events, and more. Our programming is designed to help your loved one live with hope and dignity as they form new friendships with others also focused on living to the best of their ability. We also encourage residents to take advantage of the beautiful Modesto weather with our secure outdoor patio and courtyard.
What are the benefits of socialization for seniors with dementia?
Socializing with peers has been proven to be beneficial to the overall health of seniors with dementia. Social activities promote cognitive stimulation with conversations about past memories, which also helps keep brains active. Socialization even has a positive effect on moods by providing a sense of community and belonging and reducing feelings of isolation.
Additionally, social activities can help your loved one stay physically active by encouraging movement such as walking or dancing. On top of good exercise, these activities foster meaningful relationships between participants that often provide emotional support during difficult times.
Activity groups offer valuable opportunities for seniors in Modesto to engage socially while also benefiting from physical exercise and mental stimulation. Whether rediscovering an old hobby or reminiscing and sharing stories, there are plenty of options available to help keep your loved one engaged, active, and feeling connected within their community. Contact Orangeburg Memory Care to learn more about our high-quality Alzheimer's and dementia care.